NOW PLAYING
DRAMA | Unrated
Follows the spiritual journey of a 90-year-old atheist and the quirky characters that inhabit his off the map desert town. Having out lived and out smoked all of his contemporaries, the fiercely independent Lucky finds himself at the precipice of life, thrust into a journey of self exploration, leading towards that which is so often unattainable: enlightenment. Acclaimed character actor John Carroll Lynch's directorial debut, 'Lucky', is at once a love letter to the life and career of Harry Dean Stanton as well as a meditation on mortality, loneliness, spirituality, and human connection.
STARRING
Ron Livingston, Harry Dean Stanton, David Lynch, Tom Skerritt and Ed Begley Jr.
SHOWTIMES
12:00, 2:30, 4:45, 7:00 & *9:00
[*Late Show – Friday & Saturday only]
NOW PLAYING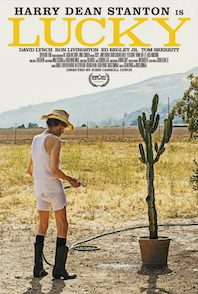 ---
NOW PLAYING
DRAMA | PG-13
The extraordinary true story of an unexpected friendship in the later years of Queen Victoria's (Academy Award winner Judi Dench) remarkable rule. When Abdul Karim (Ali Fazal), a young clerk, travels from India to participate in the Queen's Golden Jubilee, he is surprised to find favor with the Queen herself. As the Queen questions the constrictions of her long-held position, the two forge an unlikely and devoted alliance with a loyalty to one another that her household and inner circle all attempt to destroy. As the friendship deepens, the Queen begins to see a changing world through new eyes and joyfully reclaims her humanity.
STARRING
Judi Dench, Ali Fazal and Eddie Izzard
SHOWTIMES
12:00, 2:15, 4:30, 6:45 & *9:00
[*Late Show - Friday & Saturday only]
NOW PLAYING