WARREN MILLER'S - NO TURNING BACK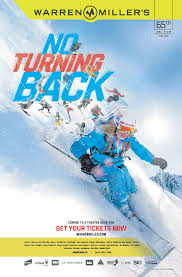 The most esteemed name in winter sports films announces its 65th anniversary feature film and U.S. tour dates.
This fall, Warren Miller releases its 65th film, No Turning Back. The newest installment pays homage to the 65 years of mountain culture and adventure filmmaking that has lead WME to every end of the winter world—and this year is no different. They're taking a legacy that dates back to before skis had edges and mountains had condos and they're running with it to the steepest peaks around the globe and back to the Mom and Pop hills that define skiing and riding. Welcome this winter season and remember there's No Turning Back!
Warren Miller's annual film tradition marks the beginning of colder weather, winter exploration, and premier cinematography. Come experience the stoke as WME revels in winter's heritage and pushes the boundaries in Niseko, Japan, the Swiss Alps, Montana, France, and more. See top athletes like Sierra Quitiquit, Rob Kingwill, Ingrid Backstrom, Oystein Aasheim, Seth Wescott, and others continue the Warren Miller legacy in winter sports storytelling.
Since he began creating films in 1949, Warren Miller has known that as skiers and riders, there's no need to look back, we have to continuously drive to keep our edge and chase the snow. Whether it is Josh Bibby and Tyler Ceccanti carving down Mount Olympus in Greece or Kaylin Richardson breaking trail in Norway, these athletes prove that not much has changed when it comes to why it is these athletes tilt and turn down mountains and pray for storms. Sheer delight.
"Everywhere we go, Warren Miller Entertainment finds people who have dedicated their lives to the mountains," says Producer Josh Haskins. "Every location we shoot at, from the smallest local hills to the top of Alaska's Chugach, speaks to skiers and snowboarders because, at the end of the day, all we need are some steep slopes and some snow to cover them."
Attending a Warren Miller film offers moviegoers get a movie ticket, a FREE weekday lift ticket, a discount on a ski tune up, and a chance to win ski vacations, prizes and gear in the Duxbury High School Ski Team Raffle! Additionally, all attendees gain access to exclusive resort and retail savings from Warren Miller partners with values that cannot be beat. It's not just a film it's an experience. Tickets are on sale now at www.TixBeast.com and our local Ski shop partners -- SportWorks Ltd (Duxbury), Wicked Sharp Ski and Sport (Dedham / West Roxbury) and Summit Ski and Sport (Natick / Framingham).
It's time for winter and there's No Turning Back.
National Tour Stop - Emcee Dan Egan - featured skier in 12 Warren Miller Movies!
Tickets available at the Box Office or at www.TixBeast.com or Wicked Sharp Ski and Sport West Roxbury
Local Sponsors:
Sugarbush VT - Weekday Ski Lift Ticket for all movie goers
Wicked Sharp - Skis for the Raffle & Discount Ski Tuning for all movie goers
Bern Unlimited - Ski Helmets for the Raffle
New England Sno Bus - Ski Trips to Vermont and Maine
EVENT CONTACT:
Bruce Schulman - TixBeast.com - bruce@tixbeast.com 508-591-0079
About Warren Miller Entertainment
No Turning Back is the 65th annual feature film of Warren Miller Entertainment, a pioneer in action sports cinematography since 1949. Warren Miller Entertainment is a division of Active Interest Media based in Boulder, Colorado.
OFFICIAL WEBSITE
https://www.youtube.com/watch?v=QO1XAwXts7A