About Dedham Community Theatre
The Dedham Community Theatre is an independent cinema founded in 1927. This cultural gem is an essential part of the downtown scene, located in the heart of historic Dedham Square.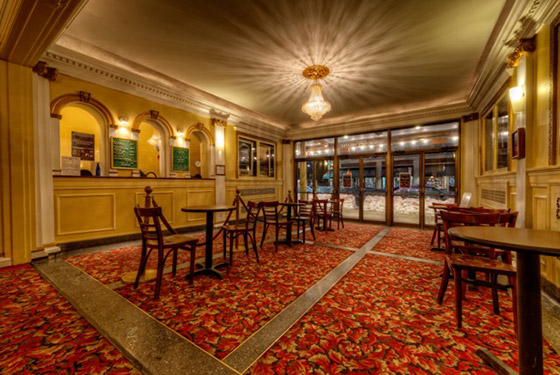 OUR MISSION
Our mission is to bring the community together for quality art-house films, events, music, and comedy. We also seek to support the independent spirit of great filmmakers and to thrive in the age of digital downloads, Netflix, and video-on-demand.
We offer great films 365 days a year, popcorn with REAL butter, beer and wine and the classic candy snacks you remember. You are helping to keep our doors open by buying snacks here!
You can buy VIP ticket booklets* and reserve the theatre for special events - whether that's a romantic screening for 2, a party for 300, a local filmmaker's premiere, or a corporate event.
Let's keep that marquee lit - we need you to make a habit of seeing films here with us, and we thank all of our loyal patrons for your continued support!
ADMISSION
We offer the discounted price of $9.00 for matinees before 1 PM. The ticket price is $9.00 for seniors over 65, children under 15, and active US Service Members. General admission is $11.00.
VISIT DEDHAM SQUARE
Dedham Square has great restaurants, unique boutiques, specialty shops, live entertainment and more. Visit visitdedhamsquare.com for a business directory and event calendar listing all the great things going on in our Square.
* Please note that if you plan on using a VIP pass or Groupon, they cannot be used during the opening week of a film's engagement due to our contractual obligations to our studio partners. Thank you for your understanding and cooperation!