NOW PLAYING
DRAMA | R
What would you do if you found out your children did something terrible and irreparable? How far would you go to protect them? Oren Moverman brings Herman Koch's sensational worldwide bestselling novel THE DINNER to the big screen. THE DINNER is a frighteningly dramatic and darkly comic story of contemporary families.
STARRING
Richard Gere, Rebecca Hall, Steve Coogan, Laura Linney and Chloe Sevigny
SHOWTIMES
12:00 & 4:30
NOW PLAYING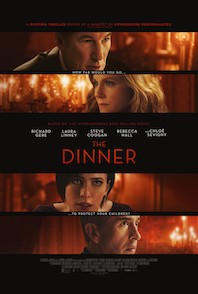 ---
NOW PLAYING
DRAMA | R
The stirring and touching story of three generations of a family living under one roof in New York as they deal with the life-changing transformation by one that ultimately affects them all. Ray (Elle Fanning) is a teenager who has struggled with the body assigned to him at birth and is determined to start transitioning. His single mother, Maggie (Naomi Watts), must track down Ray's biological father (Tate Donovan) to get his legal consent to allow Ray's transition. Dolly (Susan Sarandon), Ray's lesbian grandmother, is having a hard time accepting that she now has a grandson. They must each confront their own identities and learn to embrace change and their strength as a family in order to ultimately find acceptance and understanding.
STARRING
Susan Sarandon, Naomi Watts, Elle Fanning, Tate Donovan, Linda Emond and Sam Trammell
SHOWTIMES
2:30 & 7:00
NOW PLAYING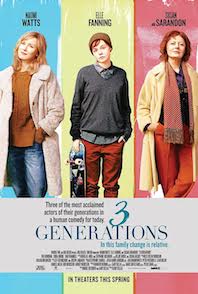 ---
NOW PLAYING
COMEDY | R
A refreshing, funny look at love, fidelity, and family, starring Debra Winger and Tracy Letts as a long-married and completely dispassionate husband and wife. Both are in the midst of serious affairs and are increasingly committed to their new partners. But on the brink of officially calling it quits, a spark between them suddenly and unexpectedly reignites, leading them into an impulsive romance that forces them to navigate the hilarious complications of 'cheating' on their respective lovers. A mixture of humor and powerful emotion, the story is a uniquely honest take on modern marriage.
STARRING
Debra Winger, Aidan Gillen, Melora Walters, Tracy Letts, Tyler Ross and Jessica Sula
SHOWTIMES
12:00, 2:15, 4:30, 6:45 & *9:00
[*Late Show - Friday & Saturday only]
NOW PLAYING