NOW PLAYING
DRAMA | PG-13
An unlikely romance in which the reclusive Everett Lewis (Ethan Hawke) hires a fragile yet determined woman named Maudie (Sally Hawkins) to be his housekeeper. Maud, bright-eyed but hunched with crippled hands, yearns to be independent, to live away from her protective family and she also yearns, passionately, to create art. Unexpectedly, Everett finds himself falling in love. MAUDIE charts Everettas efforts to protect himself from being hurt, Maudas deep and abiding love for this difficult man and her surprising rise to fame as a folk painter. Based on a true story.
STARRING
Ethan Hawke, Sally Hawkins, Gabrielle Rose, Kari Matchett, Zachary Bennett and Billy MacLellan
SHOWTIMES
2:15 & 7:00
NOW PLAYING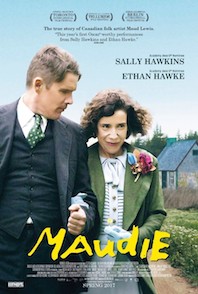 ---
NOW PLAYING
COMEDY | Unrated
After jaunts through northern England and Italy, Steve Coogan and Rob Brydon embark on another deliciously deadpan culinary road trip. This time around, the guys head to Spain to sample the best of the country's gastronomic offerings in between rounds of their hilariously off-the-cuff banter. Over plates of pintxos and paella, the pair exchange barbs and their patented celebrity impressions, as well as more serious reflections on what it means to settle into middle age. As always, the locales are breathtaking, the cuisine to die for, and the humor delightfully devilish.
STARRING
Steve Coogan, Rob Brydon, Claire Keelan and Marta Barrio
SHOWTIMES
12:00, 2:15, 4:30 & 6:45
NOW PLAYING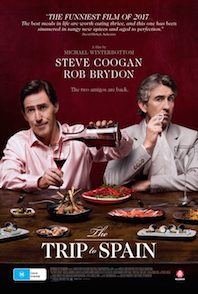 ---
NOW PLAYING
DRAMA | R
Set in 17th century Amsterdam, following a married woman (Alicia Vikander) who begins a passionate affair with an artist (Dane DeHaan) hired to paint her portrait. The lovers gamble on the booming market for tulip bulbs as a way to raise money to run away together.
STARRING
Christoph Waltz, Alicia Vikander, Dane DeHaan, Judi Dench, Zach Galifianakis, Tom Hollander, Jack O'Connell, Holliday Grainger, Matthew Morrison and Cara Delevingne
SHOWTIMES
12:00 & 4:45
NOW PLAYING