NOW PLAYING
DRAMA | PG-13
Based on the untold story of one of the greatest minds of his generation, The Man Who Knew Infinity charts the incredible life of Srinivasa Ramanujan (Slumdog Millionaire's Dev Patel), whose genius for mathematics takes him from the slums of India to Trinity College, Cambridge University in the early 20th-century. Spurred on by his mentor G. H. Hardy (Academy Award winner Jeremy Irons), Ramanujan overcomes racism and the rigidity of academia to revolutionize the field with his startlingly original theorems, which he attributes to divine inspiration. Driven by the engaging rapport between Patel and Irons as two vastly different men who find common ground in the world of numbers, The Man Who Knew Infinity is a fascinating look at how an unlikely, cross-cultural friendship changed the world.
STARRING
Jeremy Irons, Dev Patel, Stephen Fry & Toby Jones
SHOWTIMES
Noon, 2:15 & 7:10
NOW PLAYING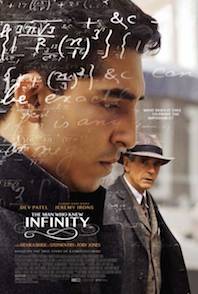 ---
NOW PLAYING
COMEDY | PG-13
THE MEDDLER follows Marnie Minervini (Susan Sarandon), recent widow and eternal optimist, as she moves from New Jersey to Los Angeles to be closer to her daughter (Rose Byrne). Armed with an iPhone and a full bank account, Marnie sets out to make friends, find her purpose, and possibly open up to someone new.
STARRING
Susan Sarandon, Rose Byrne, J.K. Simmons, Harry Hamlin, Michael McKean, Jason Ritter, Randall Park, Casey Wilson, Billy Magnussen, Lucy Punch, Amy Landecker, Cecily Strong and Jerrod Carmichael
SHOWTIMES
Noon, 2:10, 4:30, 7:00, & *9:15
[*Late Show: Friday & Saturday only]
NOW PLAYING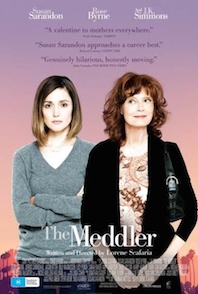 ---
NOW PLAYING
DRAMA | R
Rock legend Marianne Lane is recuperating on the volcanic island of Pantelleria with her partner Paul when iconoclast record producer and old flame Harry unexpectedly arrives with his daughter Penelope and interrupts their holiday, bringing with him an A-bomb blast of nostalgia from which there can be no rescue. A BIGGER SPLASH is a sensuous portrait of desire, jealousy and rock and roll, under the Mediterranean sun.
STARRING
Ralph Fiennes, Dakota Johnson, Tilda Swinton, Aurore Clement, Matthias Schoenaerts and Corrado Guzzanti
SHOWTIMES
4:45 & *9:15
[*Late Show: Friday & Saturday only]
NOW PLAYING