NOW PLAYING
DRAMA | R
In this adaptation of Rosalie Ham's best-selling novel, a glamorous dressmaker returns to her hometown in rural Australia to reconnect with her ailing mother and exact sweet revenge on the community that banished her as a child. As her plan unfolds, she finds love with a local man and success transforming the town with her exquisite creations.
STARRING
Starring Judy Davis, Kate Winslet, Liam Hemsworth, Hugo Weaving, Kerry Fox, Caroline Goodall, Julia Blake, Rebecca Gibney and Shane Bourne
SHOWTIMES
11:50, 2:15, 4:40, 7:10 & *9:30
[*Late Show - Friday & Saturday only]
NOW PLAYING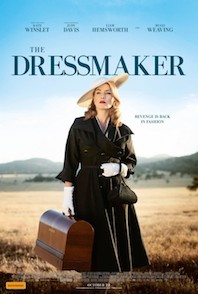 ---
NOW PLAYING
DOCUMENTARY | Unrated
Now in its final week of shows! THE BEATLES: EIGHT DAYS A WEEK - THE TOURING YEARS is based on the first part of The Beatles' career (1962-66) the period in which they toured and captured the world's acclaim. Ron Howard's film explores how Lennon, McCartney, Harrison and Starr came together to become t his extraordinary phenomenon, 'The Beatles.' It delves into their inner workings and how they made decisions, created their music and built their collective career together, all the while, highlighting their extraordinary and unique musical gifts and their remarkable, complementary personalities. The film will focus on the time period from the early Beatles' journey in the days of The Cavern Club in Liverpool to their last concert at Candlestick Park in San Francisco in 1966.
SHOWTIMES
12:15, 3:30 & 6:45
NOW PLAYING